---
DONATE
Please support this effort with your most generous contribution! Call 844-FWETHIC or donate online using PayPal below.
---
Klayman Files 35 Million Defamation Suit Against The Daily Beast
Leftist "Fake News" Media Will No Longer Think It Has License to Harm Conservatives
(Palm Beach, Florida, March 14, 2019). Late yesterday, Larry Klayman, the founder of both Judicial Watch and now Freedom Watch and a former federal prosecutor, filed a $35,000,000 defamation complaint against The Daily Beast and its reporter Timothy Burke, who wrote and posted in Florida, nationally and internationally a wholly fabricated story about an appearance Klayman had made on Newsmax TV criticizing the disgusting commentary of Fox News prime time host Tucker Carlson about women in particular.
During the interview, Klayman criticized Carlson and suggested that he made these offensive comments because he is like a "chameleon" or the character "Zelig" in the famous Woody Allen comedy film. Klayman recounted experiences with Carlson over the years, where Carlson shaped his conduct to whoever he was with—in effect "love the one you are with." That helps explain his anti-women comments to the radio shock jock affiliated with Howard Stern that have been revealed in the last days. Today, as a prime-time host at Fox News, Carlson bends his real views in Klayman's opinion to suit his employer, which has shown a callous if not felonious disregard for women's rights and in fact has a demonstrated sordid history of abusing women. Nor in Klayman's opinion is the arrogant and cocky Carlson a real conservative, but rather anything that he has to be to advance his career with whomever he is with at the time.
Not coincidentally, Fox News is run today by Suzanne Scott, who along with Bill Shine, were enablers of Roger Ailes, the founder and former CEO of Fox News, who was fired in disgrace when his pattern of sexual harassment toward women was finally revealed. Scott along with Shine covered up Ailes behavior (and that of other hosts and reporters at the network), for many years until it all finally "hit the fan," forcing the firing of Ailes and others. Klayman's current client, Laurie Luhn, who was the most ill-treated and harmed of Ailes' female victims, can attest to the vile anti-women's culture at Fox News.
But rather than writing about this, reporter Timothy Burke and his Daily Beast released a wholly false story claiming that Klayman had mocked the "Me Too" movement. Rather Klayman, who is a supporter of women's rights, as demonstrated over his long legal career, simply referred to the hypocrisy of Hollywood, where frequently the tragedies of women are exploited for profit. One such example is Ms. Laurie Luhn, who is about to be portrayed by "A list" actress Annabelle Wallis in a mini-series produced by Blumhouse and Showtime, but yet they callously and greedily refuse to compensate Luhn for the use of her "story," prompting Klayman to have sued them on Ms. Luhn's behalf.
Klayman had this to say upon filing suit:
"I was attacked and defamed by Burke and The Daily Beast because, unlike Carlson, I am a real conservative. The defendants are part of the 'Fake News' leftist media, for which my group Freedom Watch and I personally have sought to hold them to legally account.
"On behalf of my public interest and private clients I have now had to sue the New York Times, the Washington Post, the Huffington Post, Rolling Stone, Showtime, Blumhouse Television, CNN, CBS, NBC, Bravo and a host of others. Now add The Daily Beast to this growing list of leftist 'Fake News' purveyors of dishonesty in reporting and the entertainment industry. Their goal is to harm conservatives and those they do not politically agree with, not to report fairly and honestly. Now they will have their day of reckoning before a jury of their peers."
A copy of the Burke/Daily Beast complaint can be found at
www.freedomwatchusa.org
and is embedded below.
For more information or an interview, contact daj142182@gmail.com or (424) 274 2579.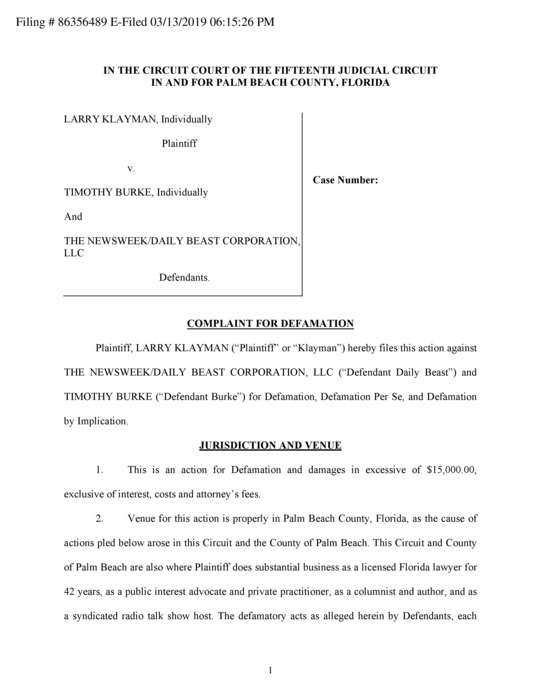 Click to View PDF
---
Klayman: If You Have Been Slandered by CNN's Don Lemon Please Contact Us! Go to www.FreedomWatchUSA.org and Support Our Leftist Media Strike Force!
Lemon: Trump's behavior is like a toddler's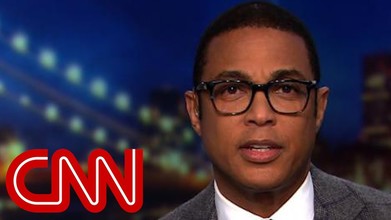 YouTube
January 10, 2019
CNN's Don Lemon calls President Donald Trump a '"toddler" after he stormed out of a meeting with top congressional leaders over border wall funding.
Continue Reading....
---
Go to Leftist Media Strike Force to Support Class Action v. Twitter and Other Social Media Companies at www.FreedomWatchUSA.org
Twitter Claims 'Error' After Locking Out NewsBusters Analyst Who Mocked Drunk Don Lemon | Breitbart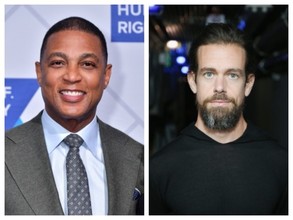 By Alana Mastrangelo
Breitbart
January 4, 2019
Twitter has claimed that it made an "error" when it locked a NewsBusters analyst out of his account on Wednesday after he mocked a drunk Don Lemon on CNN's New Year's Eve show. The tweet was called "hateful conduct" by the platform.
NewsBusters' Nicholas Fondacaro was locked out of his Twitter account on Wednesday after tweeting about Don Lemon, who seemed to be overjoyed about Nancy Pelosi's upcoming role as Speaker of House, while getting drunk on New Year's Eve.
Continue Reading....
---
Arpaio and Klayman File Complaint for Defamation Against Jeff Zucker, Chris Cuomo, CNN, Huffington Post and Rolling Stone
Sheriff to Hold Leftist "Fake News" Media to Legally Account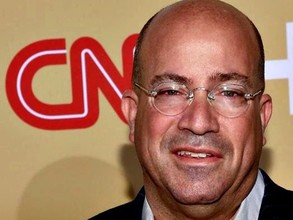 (Washington, D.C., December 11, 2018). Today, Larry Klayman, the founder of both Judicial Watch and now Freedom Watch and a former federal prosecutor announced the filing of a complaint for defamation against the president of CNN Jeff Zucker and his prime time host Chris Cuomo and CNN, the Huffington Post, and Rolling Stone magazine. The complaint, which alleges defamation per se, was filed in the U.S. District Court for the District of Columbia (Case No. 1:18-CV-02894) and is furtherance of Freedom Watch's "Leftist Media Strike Force." See
www.freedomwatchusa.org
.
Specifically, the complaint alleges that these "Fake News" publications slandered and libeled former Maricopa Sheriff and U.S. Senate candidate Joe Arpaio by falsely branding him a "felon." To the contrary, Sheriff Arpaio was never found guilty of a felony, nor arrested and imprisoned as one of the publications claimed, but was simply found to have committed a misdemeanor, for which he was pardoned by President Donald Trump. The nullification of even the misdemeanor finding, which Sheriff Arpaio submits was legally incorrect but simply the basis of politics, as he had not violated a court order and intentionally profiled illegal immigrants, is on appeal to the U.S. Court of Appeals for the Ninth Circuit. Sheriff Arpaio is confident that even the misdemeanor finding will eventually also be vacated.
Klayman had this to say for Sheriff Arpaio, "America's Toughest Sheriff," upon filing the complaint, which seeks $300,500,000 USD in actual and punitive damages. The complaint can be viewed at
www.freedomwatchusa.org
and is embedded below.
"It's time that someone stood up to the Left's 'Fake News' media, which is bent on destroying anyone who is a supporter of the president and in particular Sheriff Arpaio. My client will not be bullied by the likes of Jeff Zucker, Chris Cuomo, the Huffington Post, and Rolling Stone, as he alone has the courage to stand up for not just himself, the President of the United States but also all fair-minded and ethical Americans."
Previously, Arpaio also sued the New York Times for libel per se. See Arpaio v. New York Times et. al (Civil Action No. 1:18-CV- 02387 (D.D.C.)
For more information, contact daj142182@gmail.com or (424) 274 2579.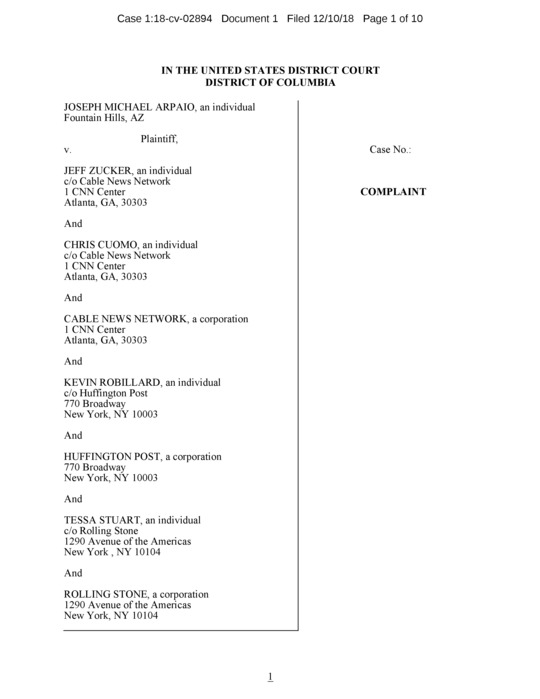 Click to View PDF
---
Klayman: This Was No Accident!
Go to www.FreedomWatchUSA.org to Join and Support Our Leftist Media Strike Force! Share and Donate
MSNBC's test 'misfire' airs results in Florida race for governor a day early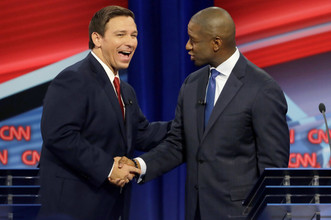 New York Post
November 6, 2018
MSNBC called the race early — by a day. The cable news channel got ahead of itself Monday evening when it put a graphic onscreen showing the results of the Florida governor's race — roughly 24 hours before polls in the Sunshine State even closed.
The graphic showed Democrat Andrew Gillum defeating former GOP Rep. Ron DeSantis by 49.4 percent to 48.8 percent with 99 percent of the precincts reporting.
Chris Hayes, the host of "All In," gave a quick on-air clarification.
Continue Reading....
---
Klayman: As an Alumnus of Emory Law School I Am Embarrassed That Jimmy Carter Is Still Given a Voice at My Alma Mater! Like Farrakhan He Is an Anti-Semite and Hater of Israel and Just More Subtle About It!
Go to www.FreedomWatchUSA.org to Join and Support Our Leftist Media Strike Force! Share and Donate
Jimmy Carter: Kavanaugh is 'unfit' to be a Supreme Court justice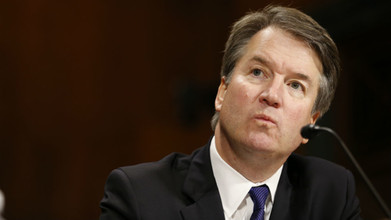 TheHill
October 18, 2018
Former President Jimmy Carter harshly criticized newly appointed Supreme Court Justice Brett Kavanaugh, calling him "unfit" to serve on the court.
Speaking to a class at Emory University in Atlanta on Wednesday, Carter said that Kavanaugh's behavior during his confirmation hearings demonstrated that his appointment was "a very serious mistake," according to Emory's independent, student-run newspaper, The Emory Wheel.
Continue Reading....
---
Klayman: CNN's Acosta Ups His Mission as Network's Wise Guy!
Go to www.FreedomWatchUSA.org to Join and Support Our Leftist Media Strike Force! Share and Donate
CNN reporter Jim Acosta prompts Trump to call on 'female reporter' at New York press conference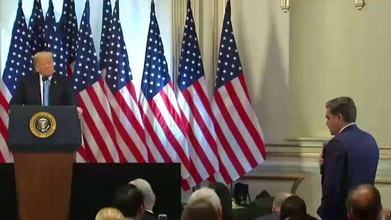 By Elizabeth Zwirz
Fox News
September 26, 2018
CNN reporter Jim Acosta asked President Trump whether "one of our female colleagues" could be called on after he questioned the president at a Wednesday press conference in New York City, prompting Trump to question Acosta's protocol request.
"What does he mean by that," Trump asked.
In a series of crosstalk, during which Trump repeatedly asked him to "explain," Acosta said he thought "it would be great if a female reporter would ask you a question about this issue."
Continue Reading....
---
Klayman: Freedom Watch Is Taking Strong Action to Crush Leftist Media Censorship! Go to www.FreedomWatchUSA.org and Sign Up and Support Our Leftist Media Strike Force and Its Newly Filed Class Action Lawsuit. Share and Donate
CNN Boosts Left-Wing Campaign to Censor Breitbart; Approves 'Blacklisting' | Breitbart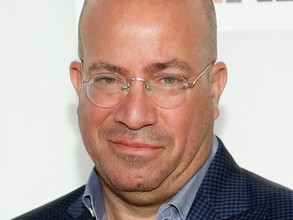 By Joel B. Pollak
Breitbart
September 3, 2018
CNN swept aside journalistic ethics on Sunday by endorsing a blacklisting campaign with a glowing interview of Matt Rivitz, the founder of Sleeping Giants, a failed effort to censor Breitbart News by harassing and intimidating companies whose advertisements may (or may not) have appeared on the website.
The interview took place on Reliable Sources, a Sunday morning show that once focused on analyzing the media, but which in recent years has been turned into the editorial mouthpiece of CNN president Jeff Zucker, voiced through host Brian Stelter.
Sunday's program was helmed by substitute anchor John Avlon, in for Stelter — who had earlier used his vacation to dodge questions about CNN's failure to retract a false story about President Donald Trump's former lawyer, Michael Cohen.
Continue Reading....
---
Klayman: More Lies From CNN's Toobin and The "Jewish Left"
Go to www.FreedomWatchUSA.org to Join and Support Our Leftist Media Strike Force! Share and Donate
WATCH: CNN Gives Most Insane Defense Of Antifa Ever. Twitter Explodes.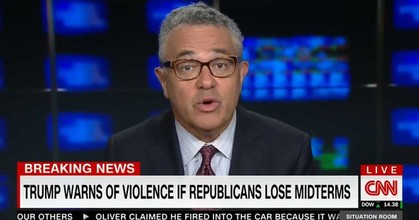 Daily Wire
August 29, 2018
CNN analyst Jeffrey Toobin claimed on Tuesday that any criticism of the violent far-left group, Antifa, was based on President Donald Trump's "appeal to racism."
The CNN segment was focused on discussing Trump's recent remarks to a group of Christian leaders that if Republicans lose this November there could be widespread violence.
Continue Reading....
---
Klayman: Going Left Fox News Turning Against Trump: No Surprise as Network Is Two Faced and Unethical!
Go to www.FreedomWatchUSA.org to Join and Support Our Leftist Media Strike Force! Share and Donate
Fox News analyst criticizes Trump over condolences tweet that avoided praising McCain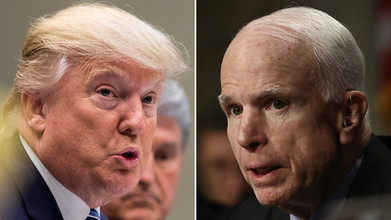 By Avery Anapol
TheHill
August 26, 2018
Fox News analyst Brit Hume took a swipe at President Trump over his tweet offering condolences to the family of GOP Sen. John McCain (Ariz.), who died Saturday at the age of 81.
Hume pointed out that Trump's tweet avoided praising McCain himself, setting it vastly apart from the dozens of tributes to the late senator posted by lawmakers from both parties.
[MORE_LINK]
See also: "Special Prosecutor with Larry Klayman: Indictments of Sessions, Mueller, Comey, Brennan, Clapper & Obama IMMINENT! PEOPLE RISE UP!"
---
Klayman: Michelle Wolf's Show Was Cancelled Because Viewers Did Not Like Her Low Class Unentertaining "Humor"!
Go to www.FreedomWatchUSA.org to Join and Support Our Leftist Media Strike Force! Share and Donate
Kimmel Writer Offers the Stupidest Reason Ever For Michelle Wolf's Show Getting Canceled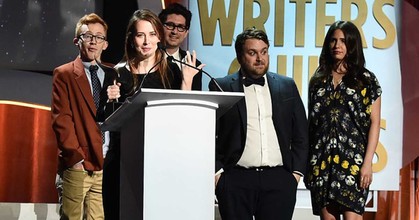 Daily Wire
August 20, 2018
On Sunday, a mere two days after it was announced that noted Sarah Sanders critic and faux comedienne Michelle Wolf had suffered the indignity of having her Netflix show canceled, Bess Kalb, writer for Jimmy Kimmel, the Emmys and the Oscars, offered the dumbest explanation yet most predictable reason for the cancellation:
Michelle Wolf's cancellation goes to show if you're a talk show host with great jokes and perfect sketches, it's best if you're not a woman. — Bess Kalb (@bessbell) August 19, 2018
Continue Reading....
---
Klayman: Go to www.FreedomWatchUSA.org to Join and Support Our Leftist Media Strike Force! Share and Donate
Trump Blasts Social Media 'Censorship': 'Discriminating Against Republican/Conservative Voices'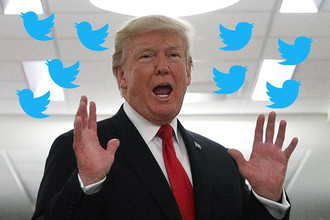 By Jon Levine
TheWrap
August 18, 2018
President Trump on Saturday issued a tweet-storm following the removal of conspiracy theorist Alex Jones and his InfoWars shows from most major social media platforms earlier this month.
"Social Media is totally discriminating against Republican/Conservative voices," the president wrote in the first of several tweets. "Speaking loudly and clearly for the Trump Administration, we won't let that happen."
Continue Reading....
---
Klayman: The Irony With Goldberg's Opinion Piece Is That Alex Jones Is More Forthright and Intellectually Honest Than He Is: Jonah Is an Anti-Trumper Like Ben Shapiro and His Commentary Seeks to Placate All Sides Including the Left!
Go to www.FreedomWatchUSA.org to Support Our Leftist Media Strike Force! Also Donate and Share!
Are We to Blame for the Alex Jones Problem? | National Review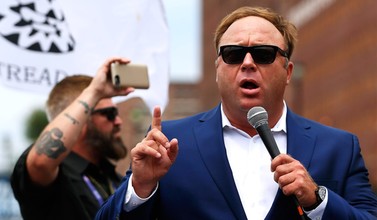 By Jonah Goldberg
National Review
August 10, 2018
The behemoths of the Internet have shunned Alex Jones, the worm-tongued, often shirtless conspiracy theorist and paranoia monger who hosts a show called "Infowars." The debate over this cartel-like decision is much larger than Jones now, and it's taking place mostly on the right.
While I have no love for Jones, the reasons offered by YouTube, Apple, and other platforms for dropping his show leave a bit to be desired. The ostensible rationale for exiling Jones, who famously accused the victims of the Sandy Hook mass shooting of being "crisis actors," is that he spews "hate speech."
Continue Reading....
---
Klayman: Most Leftist Journalists Are Indeed The "Enemy of the People"! Go to www.FreedomWatchUSA.org to Support Our Leftist Media Strike Force. Also Donate and Share!
N.Y. Times publisher implores Trump to stop calling journalists 'enemy of the people'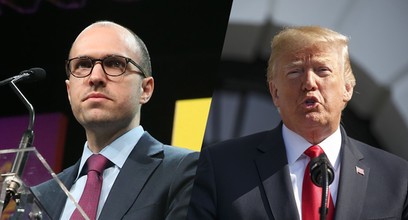 By Michael Walsh
Yahoo News
July 29, 2018
A.G. Sulzberger, the publisher of the New York Times. Trump said he opined that the press has produced "vast amounts of Fake News" and that this was responsible for his decision to label journalists the "enemy of the people."
Had a very good and interesting meeting at the White House with A.G. Sulzberger, Publisher of the New York Times. Spent much time talking about the vast amounts of Fake News being put out by the media & how that Fake News has morphed into phrase, "Enemy of the People." Sad!
— Donald J. Trump (@realDonaldTrump) July 29, 2018
Continue Reading....
---
Klayman: Read This Leftist Vile Trash and Join Our Leftist Media Strike Force! Go To www.FreedomWatchUSA.org
Tomi Lahren Says People Are Being Mean to Her And it's All Maxine Waters' Fault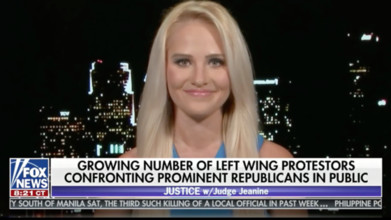 By Michael Harriot
The Root
July 8, 2018
Tomi Lahren, Satan's blonde-haired colostomy bag, went full snowflake on Fox News Saturday night, explaining that people think she's a trash human being because of Maxine Waters, and not because she's actually a trash bag full of right-wing vomit.
On Saturday's episode of Justice with Judge Jeanine, Lahren and Jeanine Pirro put on a miraculous display of anus-to-mouth lies when they managed to somehow spray bullshit from their surgically enhanced lips while talking out of their asses.
Continue Reading....
---
Klayman: Toobin Knows This Is False: Leftist Deceit and Fear-Mongering! But Only If This Was True!
CNN's Jeffrey Toobin: 'No Doubt' Abortion Will Be Illegal In 20 States In 18 Months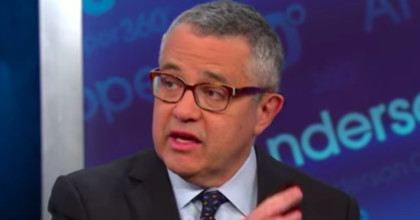 By Rebecca Shapiro
HuffPost
June 28, 2018
CNN legal analyst Jeffrey Toobin had a grim response Wednesday to the news that Justice Anthony Kennedy will be retiring this summer: "Roe v. Wade is doomed."
The 81-year-old justice, who has served on the U.S. Supreme Court for 30 years, was known as a swing vote on some issues. Now President Donald Trump will have the opportunity to place a more solidly conservative judge in Kennedy's place, tilting the nation's highest bench further in favor of Republicans.
Continue Reading....
---
Klayman: Leftist Media Hits New Low! Go to FW Leftist Media Strike Force and Donate. See www.FreedomWatchUSA.org
ABC News falsely convicts Paul Manafort of manslaughter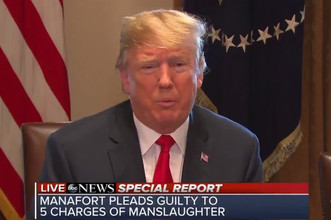 New York Post
June 20, 2018
ABC News accidentally convicted an indicted former top Trump aide of crimes he was never charged with in an onscreen graphic that aired Wednesday.
It appeared during the network's special coverage of President Trump's announcement that he would reverse course on his administration's "zero tolerance" border policy, which led to thousands of children being taken from their parents and ignited a firestorm of condemnation.
Continue Reading....
---
Klayman: If NFL Players Had Done This It Would Be "OK" for the Leftist Media!
Go to www.FreedomWatchUSA.org to Support Leftist Media Strike Force!
Trump supporter disrupts De Niro's musical with 'Keep America Great' flag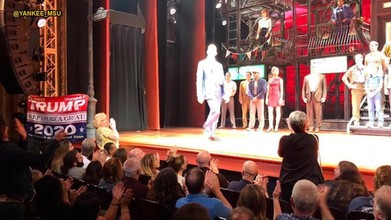 Fox News
June 18, 2018
A Trump supporter tried disrupting a performance of the Robert De Niro directed musical "A Bronx Tale" on Saturday — standing up during the curtain call and displaying a "Keep America Great!" flag towards the audience.
"The times we live in," tweeted audience member Joe Del Vicario, along with a pic showing the Broadway protest.
Continue Reading....
---
Klayman: Disgraceful Leftist Comedy by Ignorant People!
Go to www.FreedomWatchUSA.org to Support Leftist Media Strike Force!
Late night jokes about Trump and Kim's meeting - CNN Video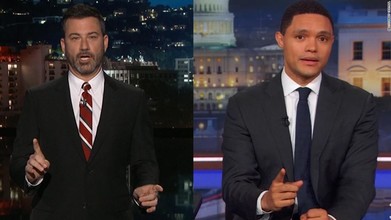 CNN
June 13, 2018
Late-night hosts Jimmy Kimmel, Seth Meyers, Trevor Noah, Stephen Colbert and James Corden joke about President Donald Trump's meeting with North Korean leader Kim Jong Un. Source: CNN
Continue Reading....
---
Klayman: Acosta Is a CNN Hack and Must Be Held Legally Accountable: Go to www.FreedomWatchUSA.org to Support Leftist Media Strike Force!
Kim gets taste of CNN's grandstanding newsman at historic summit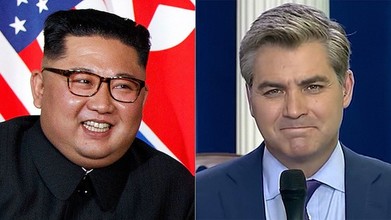 By Greg Wilson
Fox News
June 12, 2018
Kim Jong Un got a taste of President Trump's pain when CNN star Jim Acosta peppered the world leaders with grandstanding questions following their historic summit in Singapore early Tuesday.
"Mr. President, how is the meeting going so far, sir?" the Trump-bashing newsman hollered as Trump and Kim exited their conference room at the Capella Hotel following a 35-minute meeting. "Any progress, Mr. President?"
"Chairman Kim, will you denuclearize?" he pressed. "Mr. President, how's it going so far, sir?"
Continue Reading....
---
Klayman: Go to www.FreedomWatchUSA.org to Support Our Leftist Media Strike Force!
The New York Times wants to bury a reporting scandal -- and other examples of media madness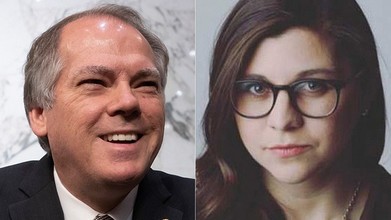 By Dan Gainor
Fox News
June 10, 2018
Government documents were leaked to the press. A reporter's communications were seized by the government without her knowing about it. And a former Senate aide was charged with "lying repeatedly to investigators about his contacts with three reporters."
It sounds like the makings of the next Hollywood production about the news media's war against President Trump. There's only one problem. The reporter wasn't just involved with her stories. She was involved for three years with the man the feds charged.
Continue Reading....
---
Klayman: CNN Celebrates Alleged Bad Week for Trump! Nothing New From the Communist News Network!
Go to www.FreedomWatchUSA.org to Join Leftist Media Strike Force!
Donald Trump's absolutely disastrous week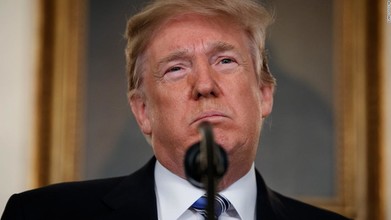 By Analysis by Chris Cillizza, CNN Editor-at-large
CNN
February 16, 2018
President Donald Trump hasn't had a lot of good weeks since becoming president last January. But this one looks like one of the worst.
Trump was buffeted on virtually every front -- the Russia investigation, issues of his personal conduct prior to becoming president, staffing at the White House, crisis response -- over the past week, and, as is often the case, his own public comments made things worse, not better.
Continue Reading....
---
Klayman: Join the Leftist Media Strike Force and Help Me Legally Destroy NBC and Other Dishonest Leftist Trump Hating Media! Go to www.FreedomWatchUSA.org to Join Our Citizen Army!
Nunes memo fails to make legal case against the FBI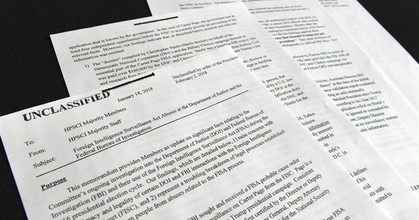 By Danny Cevallos
NBC News
February 3, 2018
The House Intelligence Committee on Friday made public a Republican memo that questions the issuance of a FISA warrant for surveillance of former Trump campaign aide Carter Page.
The main point of the memo is this: The public's faith in the FISA process, and the courts' protection of individual rights, "is necessarily dependent on the government's production to the (FISC) court of all material and relevant facts," including "information potentially favorable to the target of the FISA application that is known by the government." In the Carter Page case, the memo suggests that the FISA warrant application was improper because "material and relevant" information was omitted.
Continue Reading....
---
Klayman: No Surprise! Another Leftist Hack Clinton-Appointed Judge! Go to www.JudicialSelectionStrikeForce.org to Get Better Judges!
Federal Judge in Brooklyn Criticizes Trump and Sessions in DACA Hearing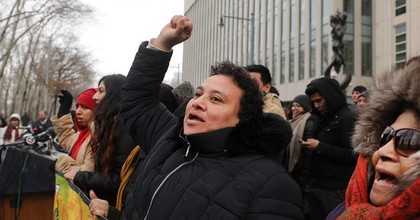 By Nicole Hong
WSJ
January 31, 2018
A Brooklyn federal judge criticized President Donald Trump's comments about Latino immigrants as "vicious" and "extremely volatile" during court arguments Tuesday over whether to stop the Trump administration from rescinding protections for undocumented immigrants who entered the U.S. as children.
In a 90-minute hearing, U.S. District Judge Nicholas Garaufis, an appointee of President Bill Clinton, repeatedly denounced Mr. Trump's previous comments about Latinos, saying they were "incendiary" and often "completely erroneous". ...
Continue Reading....
---
Klayman: CNN Hits New Low! Go to www.LeftistMediaStrikeForce.org to Sign Up and Rid the Nation of the Likes of CNN!
Liberal author Jonathan Tasini celebrates fatal GOP train accident: 'God is working hard today'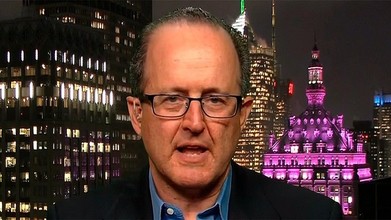 By Brian Flood
Fox News
January 31, 2018
Author and self-proclaimed CNN "talking head" Jonathan Tasini took to Twitter on Wednesday to declare that "God is working hard today to clean up the stink" because a "train full of Goopers" slammed into a dump truck moments after the news broke that GOP lawmakers were in a collision that resulted in at least one death.
A train carrying members of Congress to a Republican retreat in West Virginia hit a truck on the same morning that South Carolina Republican Rep. Trey Gowdy announced that he is retiring from Congress at the end of his term.
Continue Reading....
---
Klayman: CNN's Acosta Should Have His White House Press Credentials Revoked and CNN Should Send Someone Respectful to Cover the Presidency! Go to www.FreedomWatchUSA.org to Join FW Leftist Media Strike Force!
'OUT!' Trump orders CNN star Jim Acosta to leave Oval Office after reporter's newest outburst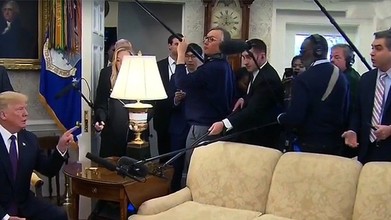 By Brian Flood
Fox News
January 16, 2018
President Trump kicked CNN star Jim Acosta out of the Oval Office Tuesday after the network's senior White House correspondent badgered him with racially charged questions.
Acosta has made a habit of grandstanding and interrupting when Trump and his surrogates are available to the media. Tuesday was no exception, as Acosta yelled, "Mr. President," three times before finally getting Trump's attention.
Continue Reading....
---
Klayman: Our Leftist Media Strike Force Will Combat This Hate by Media Matters and Soros!
George Soros-funded news org is targeting Sean Hannity's sponsors, trying to get Fox to fire him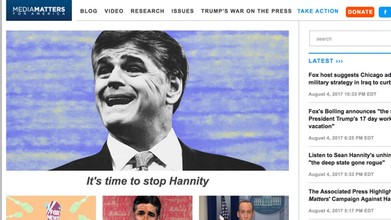 TheBlaze
August 6, 2017
Media Matters for America, a left-wing news organization funded by ultra-liberal George Soros, is on a crusade to get Fox News host Sean Hannity fired — and they've become very public about their effort.
After the Fox host earlier this year insisted on reporting on the story of murdered Democratic National Committee staffer Seth Ruch, Media Matters put pressure on Hannity's advertisers in an effort to oust his from his longtime anchor role at Fox. Media Matters home page on Saturday.
Continue Reading....
---
Klayman: Freedom Watch Leftist Media Strike Force Will Find a Way to Subpoena NBC's Chuck Todd Instead! Let Him Try to Ignore That! See freedomwatchusa.org
Chuck Todd: 'I look forward to ignoring' DOJ subpoena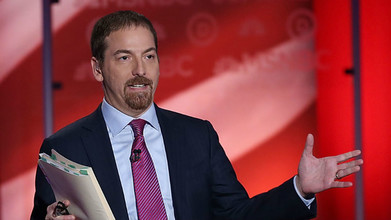 By Joe Concha
TheHill
August 5, 2017
NBC's "Meet the Press" moderator Chuck Todd said on Friday that he would ignore any subpoena the Department of Justice issues him if the agency pursues media outlets in its investigation of leaks.
"If DoJ media source threat is real (I assume it's not; just a show presser to please WH) then I look forward to ignoring that subpoena," Todd wrote to his 1.79 million followers.
Continue Reading....
---
Klayman: Freedom Watch Seeks to Hold Left Accountable for Violence: We Bring Hard Hitting Lawsuits! See www.leftistmediastrikeforce.org
Neil Cavuto rattles off a long list of leftist violence the hypocritical media ignores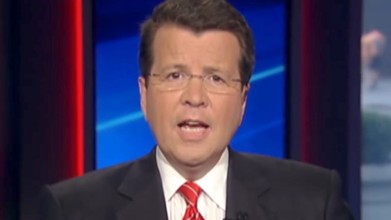 TheBlaze
July 5, 2017
Fox News' Neil Cavuto went through a list of all the violence coming from the left since President Trump was elected in order to show what he saw as hypocrisy of the media on Trump's offensive tweeting. The monologue aired Monday at the end of his show.
"So ABC News reports that after his CNN wrestling tweet," Cavuto began, "President Trump will have to own any violence that might come as a result. The New York Times cites some journalists' fears the wrestling themed portrayal of violence is dangerous, saying it could incite attacks or threats against news media employees."
Continue Reading....
---
Klayman: The Nation Looks Past CNN: "The Most Dishonest Name in News"!
The world looks past Donald Trump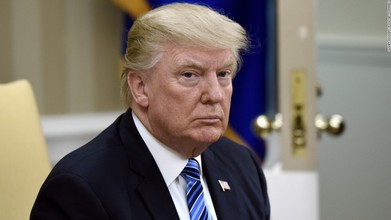 By Stephen Collinson
CNN
July 4, 2017
Foreign policy, increasingly, is what is happening around the world while the United States is making other plans.
More than five months into Donald Trump's presidency, American adversaries and allies alike are adjusting to a new era in which Washington seeks its own idiosyncratic and unpredictable "America First" path.
Continue Reading....
---
Klayman: Mike Huckabee Is Right Except for One Thing: The Leftist Media Also Hates America!
Huckabee: Media 'Hates Trump More Than They Love America'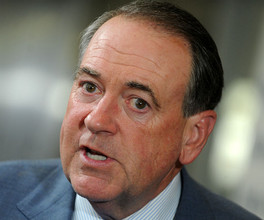 By Sandy Fitzgerald
Newsmax
July 3, 2017
The media "goes totally crazy" when President Donald Trump posts a tweet such as the one over the weekend showing himself beating up CNN, but was quiet over ones like his Fourth of July tweet, and there's a reason why, former Gov. Mike Huckabee said Monday.
"The media basically hates Donald Trump more than they love America," Huckabee told Fox News' "Fox & Friends" program.
Continue Reading....
---
Klayman: See www.LeftistMediaStrikeForce.org of Freedom Watch If Y'all Want to Take Down Leftist Media!
New York Times Editors Decry "Humiliating Process" Of Layoffs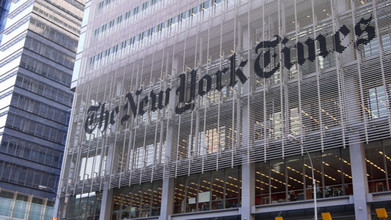 By Jeremy Gerard
Deadline
June 29, 2017
In a letter addressed to the two top editors and written under the letterhead of the NewsGuild's NYT unit, they also included a plea for reconsideration of the plan to eliminate some 100 editors from their ranks.
A short time later, Baquet and Kahn responded, in a letter addressed to New York NewsGuild president Grant Glickson. "We take those concerns seriously," they wrote. "We feel a compelling need to reduce separate layers of editing ... and to speed up production. ...We have also made clear that in an environment of limited resources, we intend to invest more in recruiting top talent to keep us ahead..."
Continue Reading....
---
Klayman: The Secret Service Investigation of Kathy Griffin Should Be Expanded to Include Snoop Dogg! Now It's Time for Them and Others of the Hollywood Left to Be Held to Account and Prosecuted for Calling for President Trump's Assassination! See www.leftistmediastrikeforce.org
Report: Secret Service Opens Investigation into Kathy Griffin 'Beheading' Photo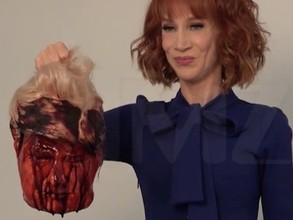 By Jerome Hudson
Breitbart
May 31, 2017
Kathy Griffin's photograph depicting her holding up a fake, bloodied decapitated head meant to resemble President Donald Trump is now the subject of a United States Secret Service investigation, according to a report.
Law enforcement sources told TMZ that the Secret Service has launched an investigation into "the circumstances surrounding the photo shoot."
Continue Reading....
---
Klayman: Kathy Griffin Should Be Arrested by the Secret Service and Prosecuted by the Justice Department for Inciting the Assassination of the President! See www.leftistmediastrikeforce.org
Kathy Griffin holds bloodied Trump mask in photo shoot with Tyler Shields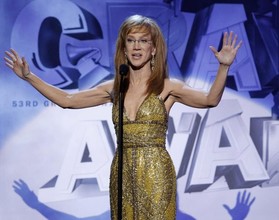 Fox News
May 30, 2017
Kathy Griffin is at it again.
The outspoken comedian posed for a photo shoot with controversial photographer Tyler Shields in which she is holding a bloodied mask of President Trump.
TMZ published the gory photo from Griffin's photo session with the famed Shields, known for his shocking pictures.
Continue Reading....
---
Klayman: More Garbage From the Left Wing Media About Hannity and Others! See www.leftistmediastrikeforce.org and www.freedomwatchusa.org
How Conservatives Finally Awoke to the Dangers of Sean Hannity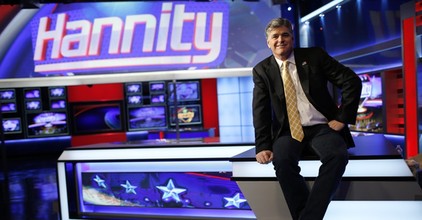 By Conor Friedersdorf
The Atlantic
May 30, 2017
As Sean Hannity hyped a conspiracy theory about the murder of a Democratic National Committee staffer last week, touting it with the zeal of a true believer without citing evidence that justified that belief, the combative Fox News host declared himself under fire and in need of backup. Lashing out at what he called "Twitter snowflakes" and "the liberal effort to silence me," he took particular umbrage at a campaign by the progressive group Media Matters for America to pressure his advertisers, an effort he called liberal fascism. "They hope to get me fired," he wrote. "Rush, O'Reilly, Beck, Imus, & now me."
He may succeed in rallying his fans. But Hannity's angry claims elide the fact that the progressives at Media Matters have sought the scalps of conservatives like him for more than a decade. The Media Matters website has 3,488 items tagged "Hannity" dating back to 2006. Its latest push isn't the reason his position is as precarious as it has ever been (nor did Media Matters stop Bill O'Reilly, who was sunk by multiple "falafel talk" allegations, or Rush Limbaugh, who is still on the air).
Continue Reading....
---
Klayman: The Left Is Now Trying to Destroy Hannity! See www.leftistmediastrikeforce.org
Hannity loses advertiser after pushing Seth Rich conspiracy theory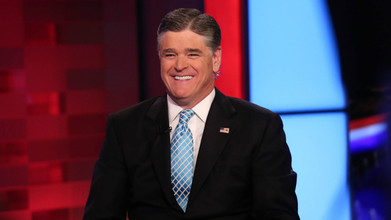 By John Bowden
The Hill
May 24, 2017
Fox News host Sean Hannity lost an advertiser Wednesday after pushing a baseless conspiracy theory surrounding the killing of a former Democratic National Committee (DNC) staffer, BuzzFeed reported.
Cars.com announced that it would immediately pull all advertisements from Hannity's 10 p.m. show, a day after the Fox host said he would stop discussing the story of former DNC staffer Seth Rich "for now."
Continue Reading....
---
A.G. Jeff Sessions Acted Ethically in Joining in the Recommendation to Fire Comey
Freedom Watch TV
May 12, 2017
See: "Jeff Sessions is in deep trouble, and here's why," by Jennifer Rubin, Washington Post
---
Secret Service Criminal Complaint Filed Against Snoop Dog
Leftist Entertainment Industry "Run Wild!" Richard Geer Goes Pro-Palestinian/Anti-Israel!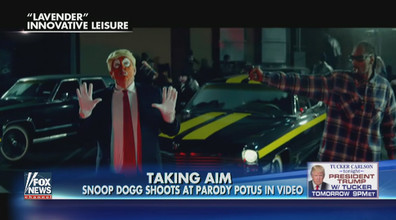 By Larry Klayman, Chairman and General Counsel
March 14, 2017
With news that the black rapper Snoop Dogg has produced and aired a video advocating and effectively calling for the assassination of President Donald J. Trump, it's clear that he would have already been arrested by the U.S. Secret Service were it not for his race. Here is what the
linked Snoop Dogg video
broadcasts: "This is the final call," just prior to aiming a gun at at a clown dressed as the president. The black rapper then pulls the trigger of the gun aimed at the President's head and a flag with the word "bang" then flies out of the gun.
This is then what this low-life tells the leftist media world, sucking up, for profit, to the hatred which has infested the entertainment industry and much of its customers: "I feel like it's a lot of people making cool records, having fun, partying, but nobody dealing with the real issues with this f*cking clown as a president... so I wanted to take time out to push pause on a party record and make one of these records for the time being."
Well, Snoop Dogg may want to tell his audience to go kill the president ala Black Lives Matter, Louis Farrakhan, and Al Sharpton, Trump being not coincidentally the chief law enforcement officer of the United States, but the black rapper, were he white, would clearly soon not be doing a record for the "time being," but instead "doing time."
Freedom Watch's Leftist Media Strike Force (see
www.leftistmediastrikeforce.org
) is today filing a complaint with the U.S. Secret Service demanding that Snoop Dogg be arrested along with others who participated in making and broadcasting the video, indicted and ultimately tried for the crime of calling for the assassination of President Trump.
A copy of the complaint can be found on Freedom Watch's website at
www.freedomwatchusa.org
. We can no longer tolerate a dual system of justice, no matter which way it cuts! Also on Freedom Watch's website is an FCC and U.S. Secret Service complaint against CNN for it too having suggested that The Donald be assassinated before he was sworn in as president, in order that an Obama cabinet official could assume the presidency. (Id.)
On another front, lest you think I am just picking just on an African-American in the entertainment industry, Richard Gere, who as an actor I have always liked, despite his weirdness in the real world (Gere is a Tibetan Buddhist), recently traveled to Israel and according to the Hollywood Reporter saw fit to throw his lot in with the Palestinians and trash the so-called Israeli occupation of the West Bank. As reported by this entertainment tabloid, Geer told Haaretz, a Jewish left Israeli newspaper akin to our Washington Post or New York Times: "Obviously this occupation is destroying everyone... There's is no defense to this occupation... Settlements are such an absurd provocation and, certainly in the international sense, completely illegal – and they are certainly not part of the program of someone who wants a genuine peace process...." Alex Ritman, "Richard Geer: Israeli settlements are 'absurd provocation,' 'completely illegal,'" Hollywood Reporter, March 13, 2017.
Looks like this leftist actor, who bows down to multiple Buddhist Gods, has now become an expert on monotheistic religions, Judaism and Christianity, and their Old and New Testaments, rejecting the Father's having "reportedly" given the Holy Land (including Judea and Samaria the so-called occupied territories) of Moses, King David and Jesus to "His" Jewish people. But then again most of Geer's leftist Jewish colleagues who overwhelmingly predominate in the entertainment industry in Hollywood believe the same thing. They would rather side with the Palestinians than their own people. How else can Geer get away with making his outrageous and legally false statements without being boycotted in Tinsel Town, ending his illustrious career!
The Jewish left – and I am a proud Jew and a Christian (I believe in the Messiah) – thankfully does not represent the majority of Jews in the nation or the world. But in the entertainment industry they reign supreme, with the likes of Steven Spielberg, David Geffen, Michael Eisner, Barbra Streisand, and tens of thousands of other studio execs, directors, producers, actors and writers.
If a conservative movie star had made such a public statement about African blacks not having the right to occupy and govern South Africa, for instance, they would be trashed and forever banned from work in Hollywood!
So the beat goes on, and I'm not talking about late great Sonny and his former bride Cher. The leftist media and entertainment industry has gone wild and I for one will do my part to hold it accountable to the norms of the law and decency in general.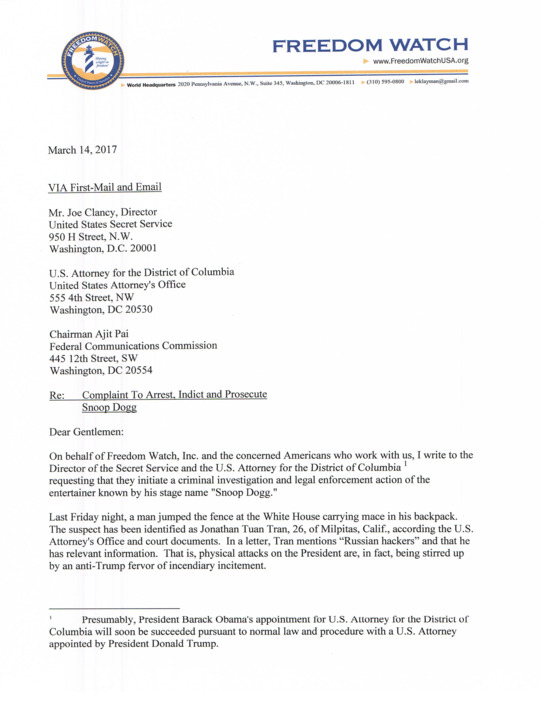 ---
FCC Announces Investigation Into Klayman/Leftist Strike Force Complaint Against CNN and Jeff Zucker
Freedom Watch Had Filed Action Over Trump Assassination Suggestion by CNN on Wolf Blitzer's "Situation Room" The Day Before the Inauguration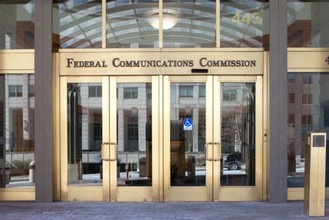 Freedom Watch release
(Washington, D.C., February 23, 2017). Today, Larry Klayman, the founder of both Judicial Watch and now Freedom Watch, and a former federal prosecutor, announced that the Federal Communications Commission (FCC) had commenced an investigation into a complaint filed by Freedom Watch's Leftist Media Strike Force (see
www.leftistmediastrikeforce.org
), alleging that the network had engaged in criminal activity by inciting "Trump haters" and terrorists with the plan that if President-Elect Trump, Vice President-Elect Pence, and the Speaker of the House were assassinated on the steps of the Capitol before their swearing in last January 20, then an Obama cabinet secretary would be in line to inherit the presidency. Klayman had asked the FCC to take remedial action against CNN, including but not limited to heavy fines and removing and revoking any broadcast licenses. Klayman also urged FCC remedial action against CNN's ultra-leftist president Jeff Zucker. Zucker previously had a falling out with Donald Trump over the president's prior show "The Apprentice," when he ran NBC. The hate-filled Zucker was forced to leave NBC under a cloud when through bad management he drove it financially and otherwise into the ground. He then became the head of CNN.
In addition, the FCC complaint was also copied and sent to the U.S. Secret Service, with a request to also investigate and take remedial action, as it is a felony to suggest the assassination of the president and vice president, and other government officials, such as the Speaker of the House.
Klayman had this to say upon receiving the FCC's announcement by email, which is embedded below along with the original complaint:
"It's time that someone took action against the likes of CNN, which are attempting to destroy the Trump presidency out of their leftist hatred for him. President Trump, who was duly elected by We the People, deserves a chance to succeed, without being destroyed with 'Fake News' and the not too transparent desire by CNN, its president Jeff Zucker and others on the left that he be assassinated."
For further information or an interview, contact daj142182@gmail.com or (424) 274 2579. The FCC complaint and the FCC's announcement are embedded below. See
www.leftistmediastrikeforce.org
and
www.freedomwatchusa.org
.
---
From: "FCC"
Date: Feb 22, 2017 12:03 PM
Subject: Request received: regulatory enforcement action against CNN
To: "leklayman"
Cc:
Hi Larry
Thank you for your submission. Your request has been received and assigned Ticket No. ########.
Your complaint provides valuable information to spot trends and practices that warrant investigation and enforcement action. We do not resolve individual complaints about this issue and, there will be no status information to report on your complaint.
If the FCC needs more information about your complaint, we will contact you directly.
Each year, the Enforcement Bureau takes hundreds of actions on behalf of consumers that result in tens of millions of dollars in penalties. These actions encourage companies and individuals to abide by the law and reduce future misconduct.
The information you provided us will continue to be available internally within the FCC to inform the Commission's enforcement and policymaking processes.
Thank you for your help in furthering the FCC's mission on behalf of consumers.
View Freedom Watch FCC Complaint Against CNN
https://www.freedomwatchusa.org/pdf/170217-FCC%20Complaint%20E-Signed.pdf
---
Larry Klayman Launches New Group to Monitor 'Leftist Media' Complaints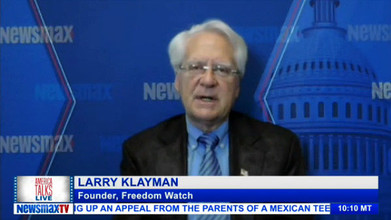 Newsmax
Former federal prosecutor Larry Klayman has launched a new website to tackle complaints about the "leftist media" – and he tells Newsmax TV that his first target is with CNN.
Klayman, founder of LeftistMediaStrikeForce.org, says the cable news network founded by Ted Turner has turned dangerously "disreputable" and far to the left under the "Napoleonic" leadership of its president Jeff Zucker.
Continue Reading....
---
New column by Larry Klayman: Freedom Watch to File FCC Complaint Against CNN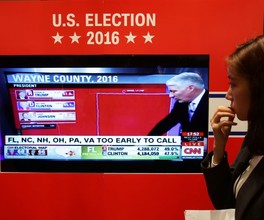 By Larry Klayman
Newsmax
Today, I will file a complaint before the Federal Communications Commission (FCC) which asks this so called bi-partisan agency to investigate and remove the license for CNN to continue broadcasting.
The complaint and its ultimate result is more than a long-shot, as the Washington establishment, which is composed of the two political parties and the mainstream media, generally circles the wagons and protects itself. But the point must be made; CNN has, under the stewardship of its miniscule 5-foot 6-inch Harvard educated president Jeff Zucker – whose family name ironically rhymes with something else – has become an agent of the far, far left – and subverted its certificate of public convenience.
Zucker is the former head of NBC, and on his watch he drove the network into the proverbial tank. Now, at his new network, he is attempting a proverbial comeback by creating an ultra-left marketing alternative to Fox News. But there are stark differences, as President Donald Trump seemed to imply at his press conference yesterday. CNN, which has in effect become the "Communist News Network," has mastered not the "Art of the Deal," but instead the "Art of Fake News." Working with subversives inside of government – likely holdovers from the Obama administration – the network has set out to destroy the Trump presidency in rapid order, with no bounds to its dishonest, false, and destructive coverage.
In this regard, given Zucker's strongman ultra-leftist control, previously semi-responsible news anchors and commentators like Jake Tapper, Wolf Blitzer, Anderson Cooper, and Erin Burnett have obviously had to tow the company line. In addition to "way out leftist" CNN lunatics Don Lemon and Van Jones – the later not coincidentally an avowed communist who had to leave the Obama administration when his political ties were exposed, but has now found a home with Zucker – these CNN celebrities have propagated such radical leftist polemic that they are even further left than Russia's RT Television Network. They have, in effect, morphed into the "Al Jazeera" of American cable news.
And, regrettably, there is some eerily similarity. Al Jazeera developed its reputation as a conduit for subliminal video messages by Osama Bin Laden, sending messages to its troops to commit terrorist acts. Now CNN, taking a page from Al Jazeera, televised, on Wolf Blitzer's show, "The Situation Room," just a day before the presidential inauguration on January 20, 2017, a virtual roadmap suggesting how terrorists could kill the incoming commander in chief, the vice president, and speaker of the House of Representatives on the steps of the U.S. Capitol and how, if Trump had yet to be sworn in, an Obama cabinet member would become president.
View this link
to see this outrage and what I am talking about.
This act, in and of itself, notwithstanding the other disgusting and dangerous ultra-leftist "fake news" that CNN spews on a minute by minute/daily basis, to boost ratings on what had become a failing news operation, is enough legally, in principle, to have the FCC yank its broadcast license. There can be no worse act than suggesting how to assassinate an American president with the intent of having installed as president what ultra-leftist Zucker and his "yes men" anchors and commentators wished for; an Obama cabinet official.
And, that is why Freedom Watch has set up and implemented a "Leftist Media Strike Force" to address this type of severe broadcasting misconduct, so damaging and potentially fatal to our republic. See
LeftistMediaStrikeForce.org
. Please join us in this quest to restore honesty, decency and responsibility to the media!
Larry Klayman, founder of Judicial Watch and Freedom Watch, is known for his strong public interest advocacy in furtherance of ethics in government and individual freedoms and liberties. To read more of his reports, Go Here Now.
---
Jake Tapper And Others At CNN Are Being Dishonest And Thus Harming The Nation
In Leftist Hollywood, Chelsea Handler And Other Entertainers Are Acting In A Vile And Disgusting Way
Freedom Watch TV
February 8, 2017
Support our Leftist Media Strike Force at
http://www.leftistmediastrikeforce.org
---
Media Reaction To Trump's Press Conference Hypocritical
Klayman Filed FCC Complaint Against CNN and Its Leftist President Jeff Zucker for Suggesting the Assassination of President Trump
---
Freedom Watch FCC Complaint Against CNN
Click to View PDF
---
Trump to Media: 'Public Doesn't Believe You People Anymore'
By Mark Swanson
Newsmax
February 16, 2017
President Donald Trump spent a significant part of his press conference Thursday – called to announce his new labor secretary nominee – stepping up his attacks on the mainstream media and debating several members of the press in attendance.
After announcing Alexander Acosta for labor secretary, Trump began prepared remarks by taking the media to task.
"I'm making this presentation directly to the American people . . . because many of our nation's reporters and folks will not tell you the truth," Trump said from the East Room of the White House.
Continue Reading...
---
My New Leftist Media Strike Force
By Larry Klayman
WND.com
January 27, 2017
Never before in our nation's history have We the People witnessed such sleaze in the leftist media. Even during the Clinton White House years, such left-leaning networks as CNN, CNBC and MSNBC maintained a degree of objectivity, however slanted. As a few examples, I frequently appeared on CNBC's "Geraldo Live" and Chris Matthews' "Hardball," as well as various MSNBC shows, even when I had the proverbial "legal knife" to the throats of the Bonnie and Clyde of American politics, President "Slick Willy" Clinton and first lady "Wicked Witch" Hillary Clinton. In addition, even the generally dishonest New York Times and Washington Post, a paper who shared legal counsel with the Clintons, David Kendall of Williams and Connelly, were able to maintain a modicum of decency toward conservatives like me.
But over the last few years, with the emergence of the tea party and then the rise of Donald Trump, the fall of the Wicked Witch's presidential ambitions and the long awaited exit of the Muslim king, Barack Hussein Obama, the leftist media have just gone "ape s--t."
Now CNN is far worse that its previous characterization as the Clinton News Network. Showcasing black communist activist Van Jones in prime time, coupled with another Obama clone, Don Lemon, the network has gone further left than even hard left. It now appears more communist than even RT, the Russian cable network broadcasting throughout the United States. And, even CNN's formerly not too way out anchors like Jake Tapper, Anderson Cooper and Wolf Blitzer have had to kowtow to the network's hateful and ultra-leftist brass and regrettably compromised their journalistic ethics, undoubtedly not just to boost ratings among any Obama and Clinton voters, but to suck up to their leftist colleagues. This now has become quite fashionable, not just at CNN but elsewhere. Literally, among these leftist media elites, it has become a sort of club, not just to bash and delegitimize the presidency of Donald Trump but to destroy the conservative movement in general.
As I mentioned in my last column, perhaps the worst case of reporting I have ever seen in my life was when Wolf Blitzer of CNN broadcast a piece the day before President Trump's inauguration suggesting how he could be assassinated by terrorists during the ceremony and in effect signaling that if this occurred before Trump was sworn-in, the presidency might inure to an Obama Cabinet member – if Vice President-elect Mike Pence and Speaker Paul Ryan were also killed. If this cheap and disgusting broadcast had been aired by Fox News, you could have bet the ranch that the Secret Service would have been ordered by Obama to arrest the perpetrators and then have the Justice Department indict them.
See the CNN report:
This attack on the Trump presidency is not isolated. Just days later Madonna, a CNN clone, called for the bombing of the Trump White House. And, a daily perusal of the headlines of the New York Times and Washington Post, not to mention the out of control Huffington Post, among hordes of other leftist rags, whip up so much hatred against Trump – accusing him without basis of lying with every word out of his mouth – that they are furthering a potential assassination attempt, which I believe they would welcome.
It is telling that in the eight years of rule by the Muslim king, not only did conservative networks and print and Internet media never advocate his physical demise, but they never whipped up the hatred we are now witnessing. And, as we sadly witnessed during recent leftist demonstrations in Washington, D.C., in and around the time of the inaugural, the nation never was subjected to conservative crowds vandalizing stores, breaking windows and otherwise fomenting mayhem and destruction.
It is now clear that the country is in the midst of a counter-revolution. Without their comrades Obama and Hillary Clinton, the left – financed largely by that evil anti-Semite atheist George Soros – has embarked to take the republic down, and then refashion it in their "National Socialist" design.
I know what these evil forces of the left are all about, and I have over the years developed a very thick skin. Indeed, one can measure one's success by those who go on the attack. For instance, I was in a strange way flattered when CNN's Don Lemon, an intellectual midget and Obama wannabe, went after me when I scored the biggest victory in the history of government litigation and had a federal court preliminarily enjoin the National Security Agency from surveiling the telephone calls of hundreds of millions of Americans. The court found that this was a violation of the Fourth Amendment of the Constitution and characterized this spying as "almost Orwellian," that is, a "Big Brother" danger to our democracy. Yet Lemon and CNN instead attacked me, rather than giving me credit for this great legal victory.
See Lemon's CNN piece:
But what CNN did to try to figuratively assassinate me as a public advocate and lawyer pales in comparison to their complicity in the suggested assassination of now President Donald Trump.
That is why you have my commitment to do whatever I can to take down these evil forces of the leftist media. They collectively have gone way beyond the pale of their leftist ideology and predilections. At present, it is either them or us, and we must use whatever legal means exist to eradicate their sleaze. For this reason I have formed a
Leftist Media Strike Force at Freedom Watch.
The time is now for action. We cannot allow the leftist media to destroy the last chance we may ever have to set the nation on a course to "Make it Great Again!" – and we cannot allow it to further calls to kill our president and throw the country into destructive chaos and counter-revolution!
---
DONATE
Please support this effort with your most generous contribution! Call 844-FWETHIC or donate online using PayPal below.
SPONSORED BY