Klayman: This Was No Accident!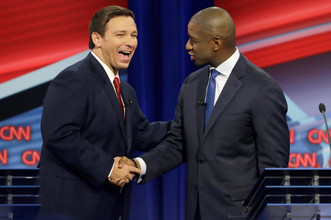 New York Post
November 6, 2018
MSNBC called the race early — by a day. The cable news channel got ahead of itself Monday evening when it put a graphic onscreen showing the results of the Florida governor's race — roughly 24 hours before polls in the Sunshine State even closed.

The graphic showed Democrat Andrew Gillum defeating former GOP Rep. Ron DeSantis by 49.4 percent to 48.8 percent with 99 percent of the precincts reporting.

Chris Hayes, the host of "All In," gave a quick on-air clarification.